TOMORROW!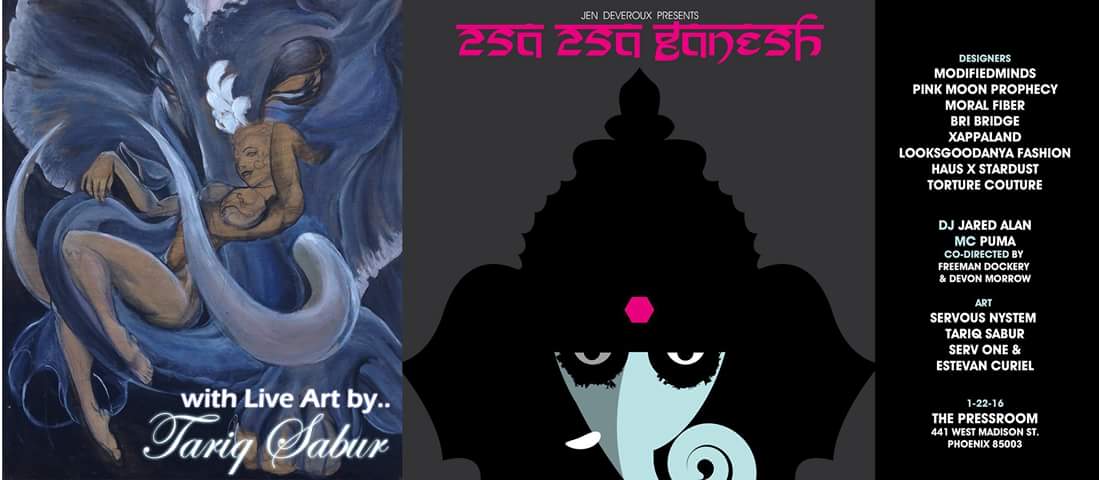 Dont miss me painting live at the Zsa Zsa Ganesh Fashion show at The Pressroom!! If you can't make it, Keep an ear out! I will post a write up as the pics and videos start coming in.
I've always loved the fashion scene here… Might not be big , but "big" is for the industry vampires. Here it is small, local, Handmade. And it is FULL of talent and originality. Come out and support!!
This show will present some of my favorite local designers and most admired models 😉
Featuring Moral Fiber Art collection by Reanna Diehl and Fashion by Graciela Martell, Amanda Tucker, Cat McGillicutty, TORTURE COUTURE, Bri Bridge, Pink Moon Prophecy, Xappa Land, Modifiedminds, and Haus X StardustHaus X Stardust.
And featuring Live art by Ernie ServOne Rojas, Carlos Rivas, Estevan Curiel, and Your's Truly: Fine Art For Bodies: Tattoos by Tariq Sabur.
Cant tell you what I'm going to do, but it is going to be epic 😉