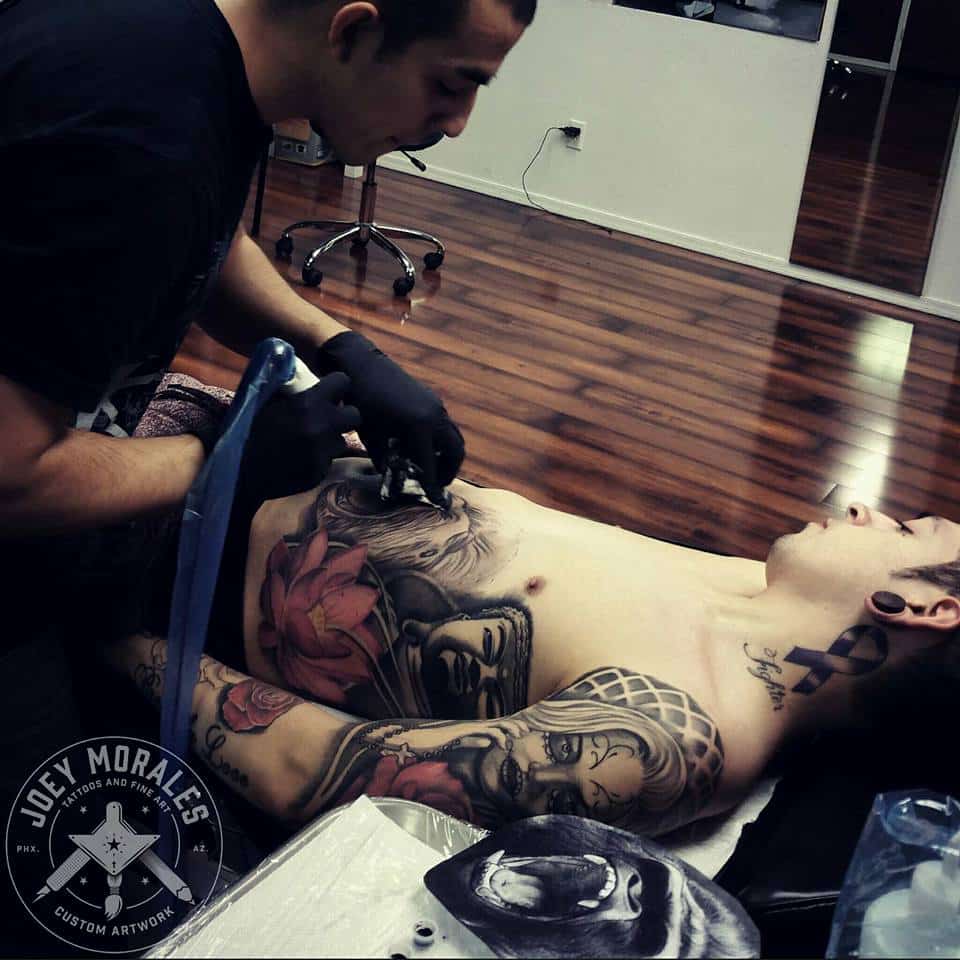 We have built a team of artists that support the mission of pushing the envelope of what body art can be. Now we are expanding the definition of  the Fine Art For Bodies Brand to include all manner of art and body art. Our artists are friendly, welcoming, professional, ethical, family oriented, and upstanding members of the community.  We pride ourselves on being active members and promoters of the Phoenix Art Community, providing a variety of  artistic services. Ffrom Fine Art, to murals, airbrushing, body painting, and taking part in or facilitating art, culture, and community events valleywide and hosting small shows and openings at our home studio.
Joey Formiga
is a talented fine artist, illustrator, painter, and full time professional tattooist based in Phoenix, Arizona. He has been tattooing since 2014 and a part of Fine Art For Bodies since March of 2018.
Joey Specializes in Black and Grey Tattooing, Realism, Portraiture, and Animal tattoos, and his favorite medium is Airbrushing.
His artistic Inspirations include Neo-Classicism and Antiquity as we all as traditional and contemporary  Chicano artwork.  His Airbrush work can be seen in the artist gallery, and some of his prints are available in the store!
Joey is an avid traveler and has traversed the globe seeking inspiration and spiritual enlightenment, (often leaving Tariq behind to fend for his poor, lonesome, child-encumbered self. ) He will often travel with his own video/media team and they produce media of epic proportions. It is rumored that they may one day create a reality show.
In his spare time Joey enjoys working out, rock climbing, Capoeira, Samba and Latin dancing, and practicing piano, which he can often be found in the lobby playing.